Please excuse the mess as we build our site.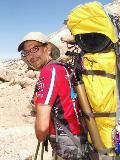 This is a family website that will someday be used to share photos, information, and stories. My name is Mark and I am a grandchild of Gilberto and Maria Esquer. My grandparents have three children: Gilbert, William (Memo), and George. Gilbert is my father and Donna my mother. I am truly blessed with a wonderful wife and three kids.

You may reach us at mesquer@yahoo.com. Please don't send us spam, junk mail, or solicitations. Please be patient for our reply as we are probably busy backpacking, biking, skiing, camping, caching, or spending time outdoors. Thanks.